Northeast High School
Class of 1969

Your reunion committee invites you to attend your
Forty Year Reunion

click here to see a
30 second promo video about the reunion
Coming soon to a reunion near you...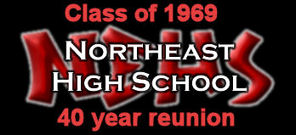 click here to hear from NEHS69's
"Hollywood" graduates... listen to this!
It's Arnold, Moe, Larry & Curly, Don Corleone, Jackie Gleason, James Bond, Goldfinger, Rodney, Cheech, Dirty Harry, James T. Kirk, Austin Powers, Dr. Evil, and more!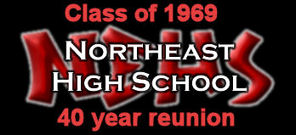 Northeast High School
Class of 1969

Your reunion committee invites you to attend your
Forty Year Reunion
Saturday, October 10, 2009
Doubletree Hotel
Broad & Locust Streets
237 South Broad Street
Philadelphia, Pennsylvania 19107-5686
215-893-1600
toll free 1-800-222-TREE


Reception
6:30 PM - 7:30 PM
Dinner Buffet
7:30PM - 11:30 PM

Doubletree Hotel has reserved a block of rooms
at the group rate of $149/night (plus tax).
This rate will be applicable 3 days before and 3 days after the reunion (subject to availability).
The cutoff date is September 9, 2009.
Reservations received after the cutoff will be accepted
on a space and rate availability basis.
For reservations call
Doubletree Hotel
215-893-1600
toll free 1-800-222-TREE
or book your Hotel reservation online by clicking below

click go to our NEHS '69 personalized Doubletree Reservation website






To update an address or get more information about our reunion please contact:
Pete Weiss

ne69news@aol.com

Forty Year
Reunion Committee
click here


--------------------------------

| | |
| --- | --- |
| | Click the blue button to register to attend the 40 year reunion! |

You can see our 35 year reunion photos thru this slide viewer.
Click on the arrow key to advance to the next pic. Enjoy!






--------------------------------


[Back] [Return to Main Page]